Modell Nr .: Xanthan Gum Verpackungsmaterial: Metall Lagerfähigkeit:> 12 Monate Anwendung: Fleisch, Getränke, Mehlprodukte, Gewürze, Gelee / Eis, Backwaren Mf: C35h49o29 Fema Nr .: 3309 Erhaltung: Kosmetik. Food Grade.Oid Drilling Grade Aussehen: White / Milk White Powder Andere Namen: Gum Xanthan Spezifikation: GMP HS Code: 29163100 Zertifizierung: BRC Aufbewahrungsmethode: Normal Hauptbestandteil: Carrageenan CAS-Nr .: 11138-66-2 Eincs Nr .: 234-394-2 Typ: Kaugummi-Basen, Emulgatoren, Stabilisatoren, Thick Food Grade: Oil Drilling Grade Zertifikat: ISO, SGS, Kosher Halal Marke: Fooding Herkunft: China E415 Verdickungsmittel Food Grade Xanthan Gum Produktbeschreibung
E415 Thickeners Food Grade Xanthan Gum
Xanthan Gum Food Grade

    >Xanthan Gum Food Grade 80mesh
    >Xanthan Gum Food Grade 200mesh

Xanthan Gum Oil Drilling Grade

    >High temperature performance : 120 Celsius
    >High temperature performance : 130 Celsius

Xanthan Gum Transparent(Clear) Grade

    >Xanthan Gum Transparent(Clear) Grade 80mesh
    >Xanthan Gum Transparent(Clear) Grade 200mesh

Xanthan Gum Toothpaste Grade

    >Xanthan Gum Toothpaste Grade 80mesh

Xanthan Gum Pharmaceutical / Medicine Grade

    >Xanthan Gum Pharmaceutical Grade 40 mesh
    >Xanthan Gum Pharmaceutical Grade 80 mesh
    >Xanthan Gum Pharmaceutical Grade 200 mesh

Xanthan Gum Cosmetics Grade

    >Xanthan Gum Cosmetics Grade 40 mesh
    >Xanthan Gum Cosmetics Grade 60 mesh
    >Xanthan Gum Cosmetics Grade 80 mesh
    >Xanthan Gum Cosmetics Grade 200 mesh

Xanthan Gum Pet Grade

    >Xanthan Gum Pet Grade 80 mesh
    >Xanthan Gum Pet Grade 200 mesh

Xanthan Gum Industrial Grade

    >Xanthan Gum Industrial Grade 40mesh
    >Xanthan Gum Industrial Grade 60mesh
Xanthan Gum Food Grade
Item

 

Specification

Appearance

Cream-white

Cream-white

Particle Size

80 mesh

200 mesh

Loss on Drying

≤13%

≤13%

PH (1% KCL)

6.0-8.0

6.0-8.0

Viscosity (1% KCL,cps)

≥1200cps

≥1400cps

Acid resistance

This product and citric acid can be used together,function is not affected

Shearing Ratio

≥6.0

≥6.0

Ashes(%)

≤13

≤13

Pyruvis Acid (%)

≥1.5

≥1.5

V1:V2

1.02-1.45

1.02-1.45

Assay

91%-108%

91%-108%

Total Nitrogen

≤1.5%

≤1.5%

Heavy metal

 

 

Arsenic content

≤3ppm

≤3ppm

Lead content

≤5ppm

≤5ppm

Microbiology

 

 

Total Plate Count (cfu/g)

≤2000

≤2000

Yeast & Moulds(cfu/g)

≤100cfu/g

≤100cfu/g

Coliform

Negative/25g

Negative/25g

Staphylococcus

Negative/25g

Negative/25g

Salmonella

Negative/25g

Negative/25g
Xanthan Gum Oil Drilling Grade (120 Celsius)
Item

 

Specification

Appearance

Cream-white powder

Particle Size

40/60/80 mesh

Loss On Drying (%)

≤13

Ashes (%)

≤13

High temperature performance

120 degrees Celsius

Viscosity (1% KCL, cps)

≥1200

PH

6.0-8.0

Shearing Ratio

≥6.5

Pyruvic Acid (%)

≥1.5

Rheological Property with Seawater at




a concentration of 2.853 Kg/m 3 (1 lb/bbl)

Specs with Fann-35

600rpm

≥102.50

300rpm

≥74.50

200rpm

≥62.50

100rpm

≥48

6rpm

≥21

3rpm

≥18
Xanthan Gum Oil Drilling Grade (130 Celsius)
Item

 

Specification

Appearance

Cream-white powder

Particle Size

40/60/80 mesh

Loss On Drying (%)

≤13

Ashes (%)

≤13

High temperature performance

120 degrees Celsius

Viscosity (1% KCL, cps)

≥1200

PH

6.0-8.0

Shearing Ratio

≥6.5

Pyruvic Acid (%)

≥1.5

Rheological Property with Seawater at




a concentration of 2.853 Kg/m 3 (1 lb/bbl)

Specs with Fann-35

600rpm

≥102.50

300rpm

≥74.50

200rpm

≥62.50

100rpm

≥48

6rpm

≥21

3rpm

≥18
Xanthan Gum Transparent Grade 80 mesh

Appearance

 

cream colored powder

Viscosity (1% solution in 1% KCL)

1200-1700Pa.s

PH (1% solution)

6.0-8.0

Transparence (1% solution)

≥85%

Moisture

≤13%

Ash

≤13%

Particle size

100% through 60mesh(250micro)




min. 95% through 80mesh(180micron)

Viscosity Ratio (V1/V2)

1.02-1.45

Pyruvic acid

≥1.5%

Heavy metal

 

Arsenic content (ppm)

≤3.0

Lead content(ppm)

≤5.0

Microbiology

 

Total Plate Count (cfu/g)

≤500

Yeast & Moulds(cfu/g)

≤100

E. coli

Negative in 5g

Salmonella

Negative in 25g
Xanthan Gum Transparent Grade 200 mesh

Appearance

 

cream colored powder

Viscosity (1% solution in 1% KCL)

1200-1700Pa.s

PH (1% solution)

6.0-8.0

Transparence (1% solution)

≥85%

Moisture

≤13%

Ash

≤13%

Particle size

100% through 80mesh(250micro)




min. 95% through 200mesh(180micron)

Viscosity Ratio (V1/V2)

1.02-1.45

Pyruvic acid

≥1.5%

Heavy metal

 

Arsenic content (ppm)

≤3.0

Lead content(ppm)

≤5.0

Microbiology

 

Total Plate Count (cfu/g)

≤500

Yeast & Moulds(cfu/g)

≤100

E. coli

Negative in 5g

Salmonella

Negative in 25g
Xanthan Gum Toothpaste Grade 80 mesh

Appearance

 

cream colored powder

Standard

E 415, FCCIV

Viscosity (1% solution in 1% KCL)

1200-1600cps

PH (1% solution)

6.0-8.0

Moisture

≤13%

Ash

≤13%

Particle size

100% through 60 mesh




≥95% through 80 mesh

Pyruvic acid

≥1.5%

Heavy metal

 

Arsenic content (ppm)

≤3

Lead content(ppm)

≤2

Microbiology

 

Total Plate Count (cfu/g)

≤2000

Yeast & Moulds(cfu/g)

≤100

E. coli

Negative in 5g

Salmonella

Negative in 25g
Xanthan Gum Pharmaceutical Grade 40 mesh

Appearance

 

cream colored powder

Standard

E 415, FCCIV

Viscosity (1% solution in 1% KCL)

1200-1600cps

PH (1% solution)

6.0-8.0

Moisture

≤13%

Ash

≤13%

Particle size

≥98% through 42 mesh




≤10% through 200 mesh

Pyruvic acid

≥1.5%

Heavy metal

 

Arsenic content (ppm)

≤3

Lead content(ppm)

≤2

Microbiology

 

Total Plate Count (cfu/g)

≤500

Yeast & Moulds(cfu/g)

≤100

E. coli

Negative in 5g

Salmonella

Negative in 25g
Xanthan Gum Pharmaceutical Grade 80 mesh

Appearance

 

cream colored powder

Standard

E 415, FCCIV

Viscosity (1% solution in 1% KCL)

1200-1600cps

PH (1% solution)

6.0-8.0

Moisture

≤13%

Ash

≤13%

Particle size

100% through 60 mesh




≥95% through 200 mesh

Pyruvic acid

≥1.5%

Heavy metal

 

Arsenic content (ppm)

≤3

Lead content(ppm)

≤2

Microbiology

 

Total Plate Count (cfu/g)

≤500

Yeast & Moulds(cfu/g)

≤100

E. coli

Negative in 5g

Salmonella

Negative in 25g
Xanthan Gum Cosmetics Grade 40 mesh

Appearance

 

white -like powder

Solubility

soluble in hot or cold water

Viscosity (1% solution in 1% KCL)

1200-1700Pa.s

PH (1% solution)

6.0-8.0

Moisture

≤13%

Ash

≤13%

Particle size

100% through 20 mesh




≥95% through 40 mesh

Pyruvic acid

≥1.5%

Nitrogen

≤1.5%

Heavy metal

 

Arsenic content (ppm)

≤3

Lead content(ppm)

≤5

Microbiology

 

Total Plate Count (cfu/g)

≤500

Yeast & Moulds(cfu/g)

≤100

E. coli

Negative in 1g

Salmonella

Negative in 25g
Xanthan Gum Cosmetics Grade 60 mesh

Appearance

 

white -like powder

Solubility

soluble in hot or cold water

Viscosity (1% solution in 1% KCL)

1200-1700Pa.s

PH (1% solution)

6.0-8.0

Moisture

≤13%

Ash

≤13%

Particle size

100% through 40 mesh




≥95% through 60 mesh

Pyruvic acid

≥1.5%

Nitrogen

≤1.5%

Heavy metal

 

Arsenic content (ppm)

≤3

Lead content(ppm)

≤5

Microbiology

 

Total Plate Count (cfu/g)

≤500

Yeast & Moulds(cfu/g)

≤100

E. coli

Negative in 1g

Salmonella

Negative in 25g
Xanthan Gum Cosmetics Grade 200 mesh

Appearance

 

white -like powder

Solubility

soluble in hot or cold water

Viscosity (1% solution in 1% KCL)

1200-1700Pa.s

PH (1% solution)

6.0-8.0

Moisture

≤13%

Ash

≤13%

Particle size

100% through 80 mesh




≥95% through 200 mesh

Pyruvic acid

≥1.5%

Nitrogen

≤1.5%

Heavy metal

 

Arsenic content (ppm)

≤3

Lead content(ppm)

≤5

Microbiology

 

Total Plate Count (cfu/g)

≤500

Yeast & Moulds(cfu/g)

≤100

E. coli

Negative in 1g

Salmonella

Negative in 25g
Xanthan Gum Industrial Grade 40/60/80 mesh

Appearance

 

white -like powder

Viscosity Ratio (V1: V2)

1.02-1.45

Solubility

soluble in hot or cold water

Viscosity (1% solution in 1% KCL)

1200-1700Pa.s

PH (1% solution)

6.0-8.0

Moisture

≤13%

Ash

≤13%

Particle size

40/60/80 mesh

Pyruvic acid

≥1.5%

Nitrogen

≤1.5%

Heavy metal

 

Arsenic content (ppm)

≤3

Lead content(ppm)

≤5

Microbiology

 

Total Plate Count (cfu/g)

≤2000

Yeast & Moulds(cfu/g)

≤100

E. coli

Negative in 25g

Salmonella

Negative in 25g
Verpackung & Versand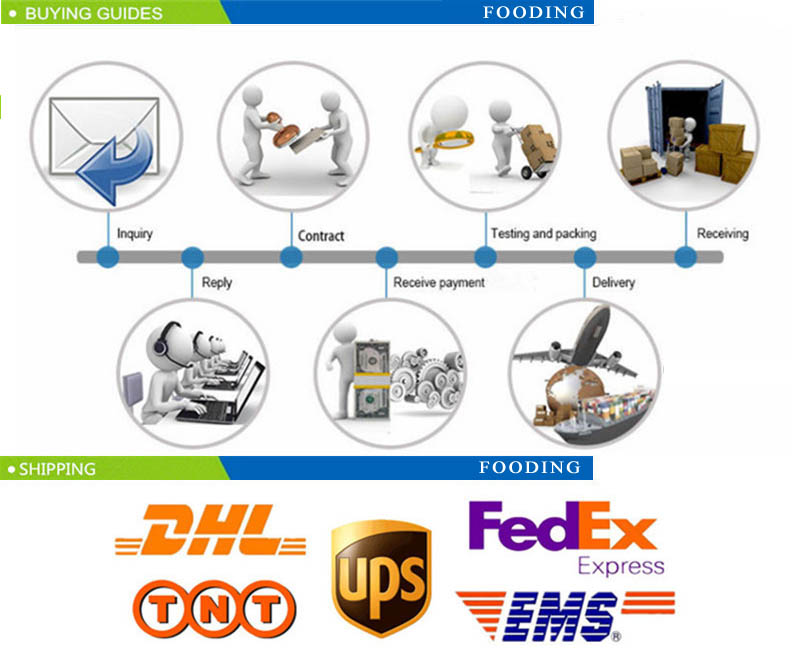 Firmeninformation
Introduction:FoodIng Group Limited is a global provider of Food Additives and ingredients specializing in serving the demand for raw materials needed for finished food products. Our clients trust us to provide quality ingredients every single time. Combined with strict manufacturing processes, top-notch R&D and a disciplined trading platform, FoodIng Group Limited continues to build upon our experience while looking out into the future.
Our mission:Fooding Group Limited's mission is to become the world's leading provider of Food Additives and ingredients. This will be accomplished by providing Quality Ingredients that match the specifications of our clients atcompetitive prices. Our products will derive from trusted sources and arrive to our clients in a timely and well arranged manner. Clients will take comfort in knowing that all of  their product needs are being handled by a professional and friendly support staff that constantly strives to outperform.If you are interested, please feel free to contact with us. We are looking forward your consulting! More infomation,please visit our website: www.chinafooding.com

Unsere Dienstleistungen 1. Versorgung hochwertiger Produkte mit einem vernünftigen Preis in der Additivindustrie.
2. Ordnen Sie die Aufträge und Versand mit cus Anfragen in der Zeit, Entsprechend den verschiedenen Ländern Exportpolitik liefern komplette Zollabfertigungsdokumente.
3. Geben Sie agile und sichere Zahlungen an.
4. Wir können für alle verantwortlich sein, wenn unsere Produkte Qualitätsprobleme haben.
5. Geben Sie eine Preisentwicklung, stellen Sie sicher, dass die Kunden über Marketing-Informationen in der Zeit wissen können.
6. Haben Sie Büros in Peru und Mexiko, Kunden können unsere Firmeninformationen von hier erhalten, diskutieren die Preise und Lieferzeiten von Angesicht zu Angesicht.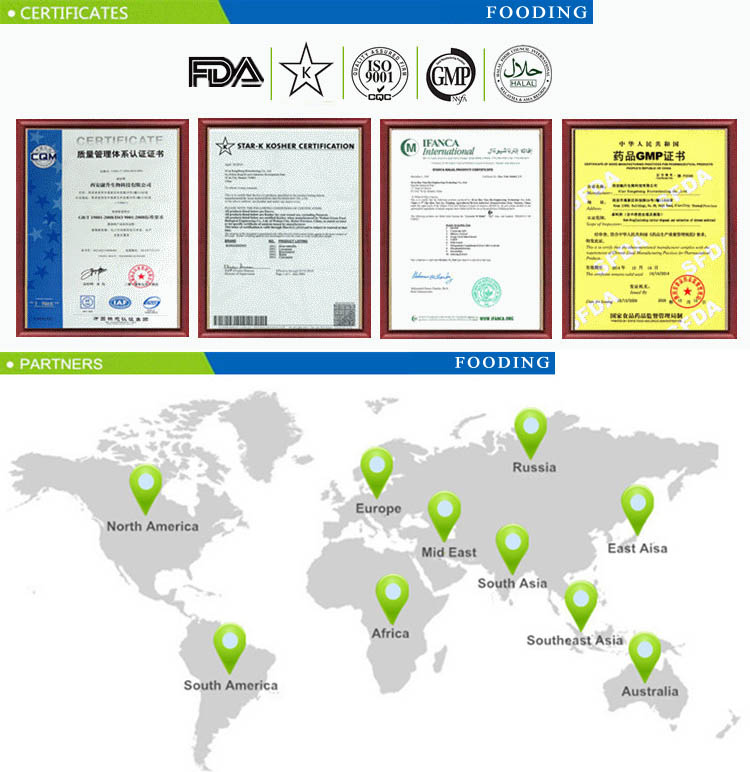 FAQ 1. Was sind Ihre Zahlungsbedingungen?
T / T oder LC.
2. Was ist Ihre Lieferzeit?
Normalerweise werden wir die Sendung in 7 -15 Tagen arrangieren.
3. Wie wäre es mit der Verpackung?
Normalerweise stellen wir die Verpackung als 25 kg / Beutel oder Karton zur Verfügung. Natürlich, wenn Sie spezielle Anforderungen an sie haben, werden wir Ihnen nachkommen.
4. Wie wäre es mit der Gültigkeit der Produkte?
Nach den Produkten, die Sie bestellt haben.
5. Welche Unterlagen bieten Sie an?
In der Regel bieten wir Commerical Invoice, Verpackungsliste, Bill of Loading, COA, Gesundheitszertifikat und Origin Zertifikat. Wenn Ihre Märkte besondere Anforderungen haben, lassen Sie es uns wissen.
6. Was ist Lade-Port?
Normalerweise ist Shanghai oder Qingdao.
Produktgruppe : Verdickerserie